Reuben - Guitar Instructor
aka "Soul-Mon"
Beginner, Intermediate
Electric & Acoustic Style Guitar Lessons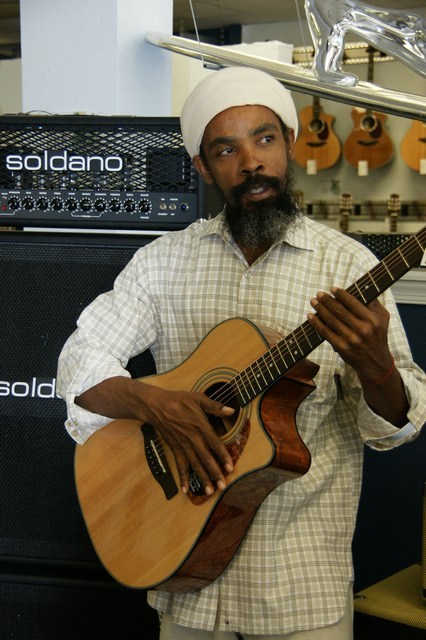 Reuben specializes in a wide range of music including reggae, jazz and blues. Rhythmically Soulful and Peaceful defines Reuben.
Paul "Reuben" Drummond hails from a small rural town in Westmoreland, Jamaica called Strathbogie. At age twelve (12) he discovered his gift and affinity for music when he made a guitar from fishing line and a sardine tin before he even knew what a guitar was. Influenced by Bob Marley, Jimmy Hendricks, B.B. King, John Scofield just to name a few; coupled with his over twenty-five years of living abroad and being exposed to different cultures and sounds, Reuben's music can only be categorized as eclectic. It fuses Reggae, Rhythm & Blues, Jazz and Rock together and when coupled with his melodious voice, it creates a "treat of sound" for listeners.
Currently Reuben is recording material for his debut album "Mind Over Matter" which is set to be released in June 2010. The album promises to be creative, uplifting and spiritual, as Reuben believes that consciousness should be expressed and shared through his music. He is also convinced that reaching humanity through word, sound and power is a gift which has been bestowed upon him by the Creator and he takes his responsibility seriously.
Reuben has graced many a stages from indoor clubs in Manhattan that seat 100 people to Woodstock Reggae Sunsplash that's hosts over 5,000 music lovers. Reuben is ready and eager to grace any stage that welcomes him and even some that won't. He believes in his message and will remain true to it and at the same time wants to educate while entertaining the masses.

Check out our Guitar Lessons in Boca Raton and the surrounding areas, today.

Call Today (561) 883-8656